By the end of the film, you actually come to mourn the passing of the EV1, a well-intentioned soul that was in the right place at the right time, but was surrounded by the wrong people.
About the Film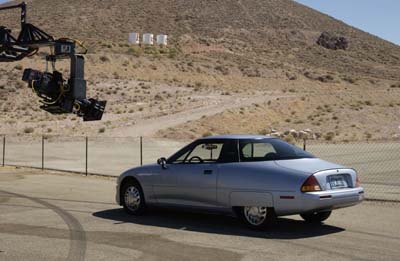 Writer/Director Chris Paine's documentary feature film Who Killed the Electric Car? premiered at the Sundance Film Festival in 2006 before its release by Sony Pictures to critical acclaim in 100 U.S. markets. The film was the third highest-grossing theatrical documentary of 2006 and screened with An Inconvenient Truth in many markets.
Currently in wide DVD release, Paine's film investigates the events leading to the quiet destruction of thousands of new, radically efficient electric vehicles. Through interviews and narrative, the film paints a picture of an industrial culture whose aversion to change and reliance on oil may be deeper then its ability to embrace ready solutions.
Who Killed the Electric Car? and Chris Paine were nominated by the Writer's Guild for Best Documentary of 2006. The film also received nominations from The Broadcast Critics Awards and The Environmental Media Awards for Best Documentary of 2006. The film won the audience award at the Canberra International Film Festival and won a special jury prize at the Mountain Film Festival.
Festivals and Awards
1) Nominated: Best Documentary - Environmental Media Awards (2006)
2) Won - Special Jury Prize Mountain Film (Telluride) (2006)
3) Nominated Writers Guild: Best Documentary
4) Nominated Broadcast Film Critics Association Awards, 2007 Best Doc. Feature
5) Won - Audience Award at the Canberra International Film Festival.
The film screened at the following Film Festivals:
San Francisco Film Festival
Sundance Film Festival
Deauville Film Festival
Seattle Film Festival
Los Angeles Film Festival
Canberra Film Festival
Tribeca Film Festival
Berlin International Film Festival
Atlanta Film Festival
Newport Film Festival
Mountain Film Festival

Sony marketed Who Killed The Electric Car? in over 100 theatrical markets to become the third highest grossing documentary in 2007. Netflix now lists nearly 150,000 ratings of our DVD release from renting customers. Over 400 reviews have been written on Neflix and it is in their Top Ten List of "important movies you should see."
Thanks to the massive push behind An Inconvenient Truth (we were a trailer for that film in theaters) and internet word of mouth, our West LA-produced documentary reached people around the world and helped inspire change.